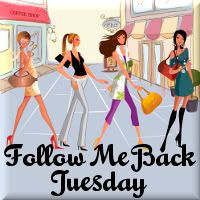 Follow Me Back Tuesday is another day of the week that you can gain more followers and find other great blogs to follow on a weekly basis. I just found this awesome Meme, and it looks like fun, so here I go...
This Meme is hosted by Survey Junkie, Little Yaya's, Review Retreat, and Boobies, Babies And A Blog! Here's how it works...
1. Add your blog to the list ( only have to add once )
2. Grab our NEW button & the link code to post on your blog.
3. Follow all 4 hostesses above & then as many other blogs as you would like.
4. After you follow a new blog make sure you leave them a comment letting them know that you are now a follower so that they can follow you back. Don't forget to return follows!
I believe in the sun even when it is not shining. I believe in love even when I feel it not. I believe in God even when He is silent. *Written on a wall in a concentration camp*
© 2010 Shannon M. King.